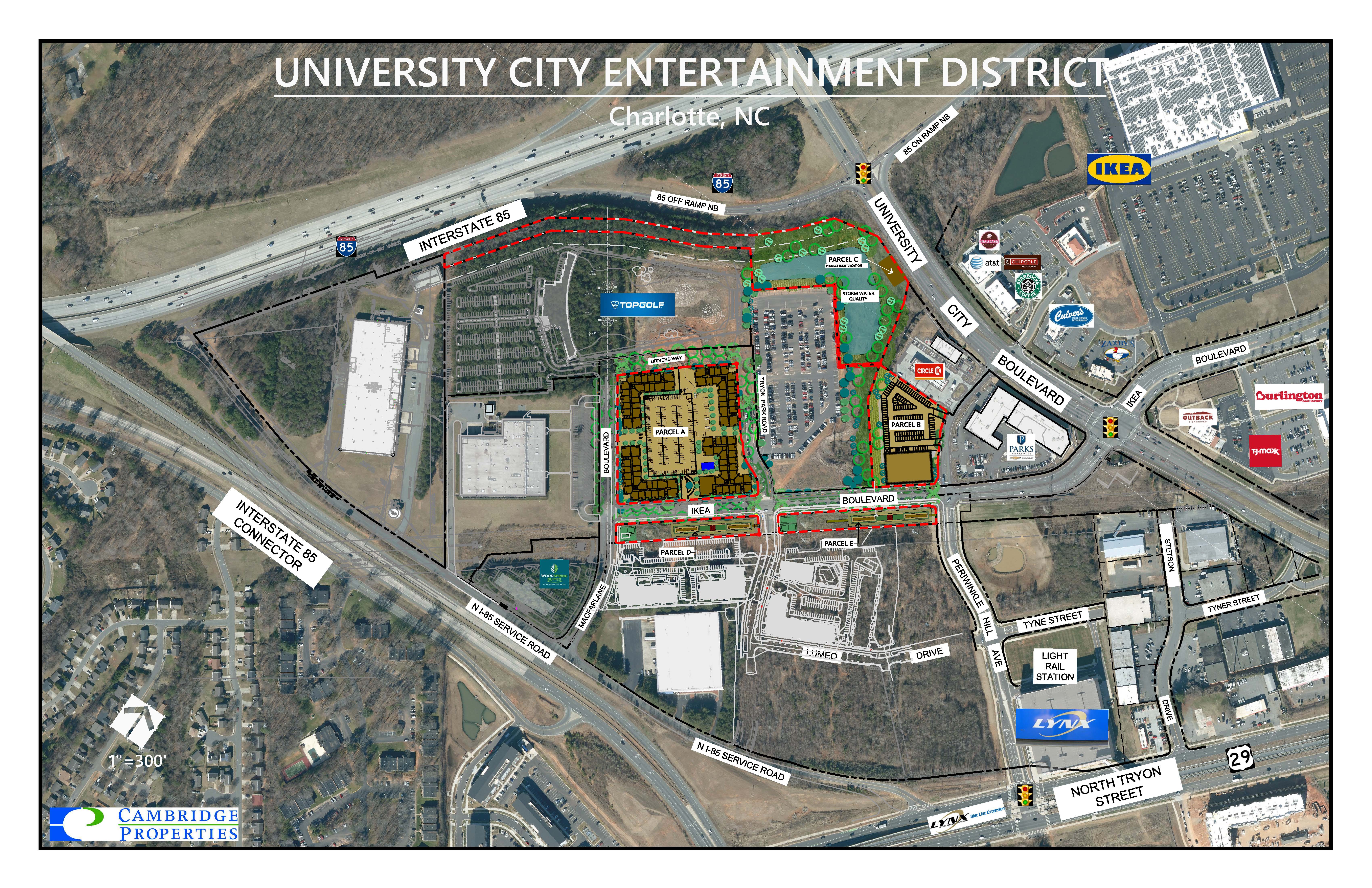 A University City entertainment district that's anchored by Topgolf could be joined by hundreds of apartments under a rezoning request before the Charlotte City Council.
Cambridge Properties, a Charlotte development and brokerage company, is proposing to build a four-story apartment building with 350 units near Ikea and MacFarlane boulevards.
The hope is that the eventual 50-acre development with a proposed mix of office, residential and commercial will not only draw people in but keep them there, Cambridge's president Jay Priester told The Charlotte Observer.
"University City hasn't had anything that allows people to stay there," Priester said. "If you want any entertainment you have to leave." Charlotte City Council heard a brief presentation Monday night about Cambridge's rezoning petition. The petition also includes a step to separate out a car dealership.
Council members did not express many concerns. Councilwoman Renee' Johnson asked Priester if there would be any affordable or workforce housing. Priester said that isn't in the plan.
The project is about a quarter-mile walk from the University City Boulevard light rail station.
A vote on the petition could happen at next month's zoning meeting. DEVELOPER ADJUSTS PLANS Cambridge has been focusing on developing the land in the area for the past 10 years, Priester said. Early discussions were to build the area as an auto mall with four car dealerships, he said. The land sits just off Interstate 85.
As of now, there's only one dealership. Construction of the city's LYNX Blue Line extension to the university area was starting around that time prompting Cambridge to rethink what should go there. "We said we don't want to be short-sighted with this development," Priester told the Observer.
Part of that readjustment is to free up future development space by separating the car dealership from the entertainment district. The rezoning petition calls for moving the cars from a surface parking lot to an enclosed garage. That garage would sit further east along Ikea Boulevard, toward University City Boulevard, city planning documents show.
The developer is also proposing to built a linear park that could include benches and other public uses, like a dog park. That would be built near the apartments along a strip of unkempt land, which sits over a transmission line, Priester said.
Read more at: Charlotte Observer